Google Apps - Your Office, Anywhere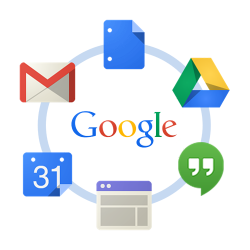 At NBM we're big fans of Google Apps.
We migrated our office to Google Apps in early 2013 and we've loved having complete access to all our emails from anywhere in the world. The tagging, searching and sorting features in Gmail are also very useful for staying in control of our inboxes.
But first, a bit of background of what it is.
Google Apps is simply a collection of Google services tailored towards businesses, many of which you may already be familiar with. They include:
Gmail (Email)
Google Drive (Document Editing and File Storage)
Google Calendar
Google+ (Social)
You can access them using your web browser or the official iPhone and Android Apps. This enables you to access emails, collaborate on documents in real-time and check your calendar from anywhere in the world. Google Apps is ideal for those who work in and out of the office.
Google Apps is everything you know and love about Google's current services. Your email address becomes a Google Account so you can easily access other Google sites like YouTube and Google Maps. However, with Google Apps there's a few extra perks.
Firstly, you get double the storage (30GB instead of the normal 15GB). You can also use your business's own domain name for emails which looks more professional than "@gmail.com". Sharing documents and email accounts between staff is also much easier. IT Admin's will also appreciate the security controls, high uptime and service level agreements available.
So what does it cost? Just $5/user each month and there are no setup or admin costs. You only pay for the number of users you need. Extra storage is also available for those with massive email inboxes or those who need to store large files in the cloud.
How can you get started on Google Apps? If you already use Outlook or Mac Mail, we suggest you get in contact with an IT professional who can help you migrate your emails into Google Apps. If you're a new business and don't have email accounts yet or have any other Google Apps questions, ask us, we're here to help.
---