The Benefits of Business Twitter-ing
by Rob

Twitter's traffic is growing enormously due to all the media attention, so we thought we'd give you a few reasons why businesses are flocking to it. If you don't know what it is, it's a micro-blogging service where you answer the question, "What are you doing?" in 140 characters or less. For a great primer on twitter, checkout this quick video http://www.youtube.com/watch?v=ddO9idmax0o. Otherwise, here's why Twitter is so good for businesses – and why you should look into it.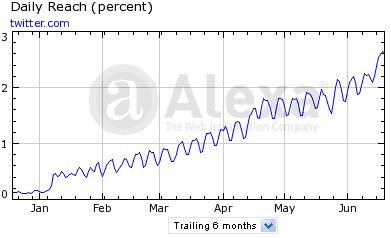 Dialogue with customers
Talking with customers can be pretty insightful. In my experience, I've seen businesses use Twitter to:
Educate customers about their product or service offering
Provide customer support and other contact
Ask customers their opinions
Provide service recovery
Facilitate online reputation management

Free publicity
Reaching almost 2.6% of the internet may seem small, but it's probably about 10-30 million unique visits per day. People also spend 0.3 minutes longer on Twitter than they do on Google each day which suggests users are genuinely involved in the site. This means you can get good amounts of targeted traffic from Twitter.
In fact, Dell found that its Twitter traffic has been responsible for over $3 million in sales http://ow.ly/dNZw.
Build customer relationships
Talking with customers also has the added benefit of building a relationship with them. For instance, tweeting everyday can help you to build top of mind awareness – people will see your brand and associate it with your tweets.
This is huge in my opinion – instead of requiring customers to sign up for your newsletter, this is much easier and less obtrusive. Every positive encounter with a customer is a brick in your palace.
A great research tool
Aside from asking customers for their opinions, you can find out what people are saying about you and your competitor's brands. Seriously, go to Twitter now, and search for some of your favourite brands http://search.twitter.com/advanced – you can find out how satisfied customers are with a particular brand almost instantly.
Networking
Since so many businesses are using Twitter these days, it's a fantastic place to network. In fact you can meet people in the same profession and follow their updates. I've even heard stories about people hiring and getting jobs on Twitter http://www.mpdailyfix.com/2009/03/guest_post_how_i_got_my_job_th.html.
A Caveat
Since I joined up with Twitter early last year, I've noticed a few things:
It's important to approach Twitter carefully, rather than jumping straight in. Do your research and ask questions first to see if it's right for your business. If you need a hand, let me know in the comments and I'll help you out.
Follow NBM on Twitter
Curious about what we're up to? Need to see an example of a Twitter profile for business? Follow NBM here.
---