How to write a blog post (and improve your SEO ranking!)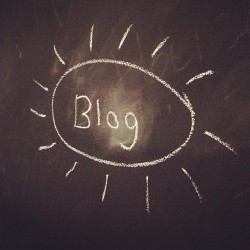 Blogging is fast becoming an excellent tool in improving SEO results, in turn bringing more views to your website and business. However for many business owners, writing an effective blog can be a difficult task. With these four handy tips, we'll show you how to write an effective, useful and unique blog that will improve your business.
Content
Content is always the most important thing to consider when writing a blog post. It should give the reader a reason to continue reading, make the reader excited about something or educate them on something that they didn't know before. In short, you need to give them a reason to want to read your blog. The biggest tip to achieve this is… Be original! Have something unique and fresh to say! A guaranteed way for you blog to be ignored by readers is to for it to have the same information (presented in the same way) as every other blog. Try using your own voice and writing in a more casual and conversational way to help readers to connect with you as a person, rather than a business.
Length
Length is a very important piece of the blog writing puzzle. Too long and you will bore your readers, too short and readers could be annoyed or frustrated at the lack of detail. Unfortunately there is no 'hard and fast' rule for blog length. The key is to consider your audience and write to suit them. Is your target market busy mums? Keep it short with lots of subheadings, dot points and lists. Targeting professionals? A bit longer will be fine, the length of an average news article is perfect. Trying to reach retirees? Your article can be longer than average and contain more detail.
From an SEO perspective, posts should be at least 250 words. In general, your blog post should be at least a couple of paragraphs, but not so long that your target audience doesn't have time to read it. If you have a lot to say on the one idea, consider a series on the topic. This allows you more detail and will give your readers a reason to come back for the next installment.
Keywords
From an SEO perspective, your website and business keywords are extremely important. They are the words that customers use to find your business online, and in a way define what your business is about. Blogging is an excellent way to improve your search rankings for particular keywords that you might be missing out on. My tip for improving keyword ranking through blog posts is to identify one keyword (or keyword group) and focus on that topic for your blog post. If you try to incorporate too many keywords into the one blog your post can quickly become a jumbled, unorganized mess. Focusing on one keyword allows you to explore the topic and establish yourself as an expert in that field. Take it in turns to write posts about different keywords and see your results grow!
Scheduling
The number one reason many blogs aren't successful is that the owner or writer is often too busy to establish and maintain a regular posting schedule. Regular posting is ESSENTIAL to engage and keep readers and to achieve the SEO results you want. Try creating a 'blog calendar' – set aside an hour and write a list of possible blog topics. Now, take a calendar and write each topic on your calendar, spacing the posts evenly apart (2 per week is ideal, 1 a week will be fine if your strapped for time). Congratulations! You have now created a blog calendar! Stick to the calendar as close as possible to ensure that your posts are consistent and regular.
Scanning
Writing for the internet is very different to writing anywhere else. Studies have shown that our eyes don't read as effectively from screens as they do from paper, making it difficult to grab and hold the attention of a prospective reader. The answer is to make your writing scannable. No, not with barcodes, but witheasily identifiable cues and prompts to guide the readers' eye:
Lists – people are drawn to lists as they present information in a neat and ordered way.
Formatting – use BOLD, italics and underlines to emphasize important points. Your eye will naturally be drawn to these differences within blocks of text
Headings & subheadings – try and break your content down into logical sections and title them appropriately.
Get to the point – If you have an important point to make, say it first rather than hiding it in a block of text that not all viewers may read.
So there you go, the key to writing an effective blog post in one neat blog post! If you have questions about blog writing, SEO or anything online drop us a line, we'd love to hear from you!
---
Tags: Blog, Copywriting, Seo
Related Articles