Our New Copywriting Services - Email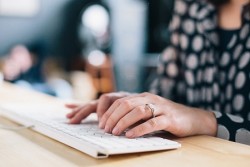 Email Newsletters

The e-newsletter has come a long way since its paper counterpart. Nowadays technology enables us to create, design and distribute newsletters from the comfort of our own computers. Not only are e-newsletters a time and cost effective alternative, but email campaigns also have the added bonus of quality templates and striking design features.
Why We Love e-newsletters
Email Newsletters are considered by many as the most professional and trusted option when it comes to online business communication. Not only do email campaigns offer excellent marketing and branding solutions, but they allow you to establish one-on-one contact, forging a deeper relationship between customer and business.

In addition to this, the added bonus of being able to customise email content means your business can successfully meet the individual needs and interest of your clients. For example, by enabling the client to have input into what service or products they'd like to know more about, as well as how often they'd like to hear from your business (eg daily, weekly, or monthly emails) means a more valuable experience for both customer and business.
Dan Oshinsky, Director of Newsletters at Buzzfeed, has deemed email marketing as an essential tool and says "Nothing else is as effective at building personal relationships with customers. If you want your business to succeed, start building your email list on Day 1" – wise words Dan!


Let Us Help – We'd love to!


Whether you already have an existing e-newsletter or you're thinking of starting a new campaign, email is the perfect way to communicate with your current and potential clients on a regular basis.

Our copywriter can provide assistance every step of the way, from the research and planning stages to writing and editing the final product. If you'd like to know more about this or any of our other digital services please contact NBM today.


References:
Why email marketing 2015, viewed 29 September 2015, < https://goo.gl/Nw9aAs>.
---
Tags: NBM, Copywriting, Email, Newsletter, E-newsletter, Dan Oshinsky, Buzzfeed, Quote, Services
Related Articles